My first solar energy exhibition at the canton fair
Views:18 Author:Site Editor Publish Time: 2018-05-07 Origin:Site
This is my first time to attend the canton fair. it's really amazing and actually it's something memorable, the product of our company belong to new energy, solar energy as a member of new energy, it makes me proud, the mainly products in our company are flexible solar modules, portable solar charger and folding solar panels, the main market are Europe, south American and Oceania , so the most of customers are from these three continents in our booth.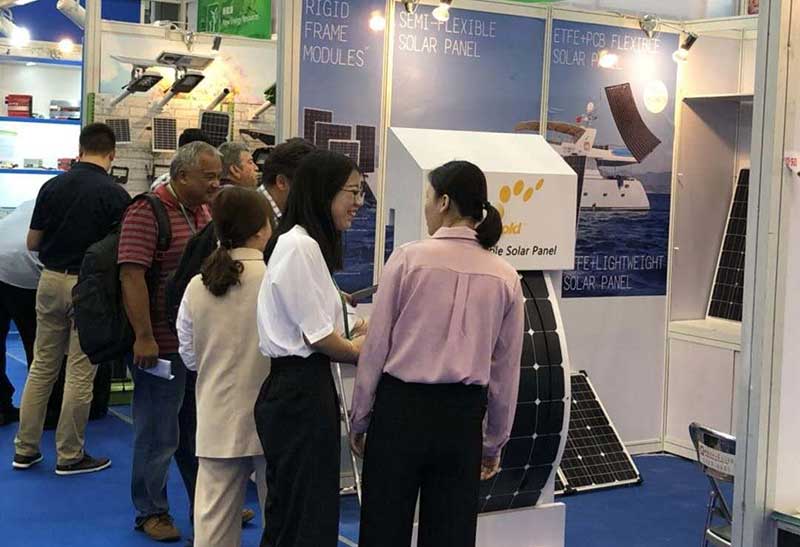 the popular products is flexible solar panels, of course our new products are more popular, there many customers ask about our new products, fiberglass solar panel, the cell is mono and the price compare with flexible solar panels, are more competitive, about the flexible solar panel and fiberglass solar panel, the mainly customers are from UK, France, Germany, secondly, it's portable solar charger, their mainly market is yacht /RV and for camping, Australian customer are more interested in portable solar charger and folding solar panels.
from this canton fair, I think the trend of solar panel is more thin, light and flexible, of course the efficiency should be higher, anyway this is a excellent experience for me, though I just stay there for one day, we face to face with customers, deeply know the requirement of customers, know what they truly need, and give the best advice for them, in short, try our best to service.
According to this canton fair, I realized many insufficient first, oral English, many times, I can't fluently talk with customers, and sometimes I can heard clearly when I talk with customers, so I need improved my oral English level, and also, I listening to BBC in the morning everyday second, I need know about more information about our product, cause many customers asked about the technology of solar panel, I know less information about our products, it will makes customers think we are not professional. Above two pieces are about my insufficient Of course I also have something good that I do it, for example, once the customer stay front our booth, I would go up to the client and told him that I can help him about our products, though my oral English not very well, but I'll still talk with them, let my colleagues help me, And try my best to service the customers. Anyway, I learned many and realized many from canton fair, it's will be a treasure for me in the future, something good should be better, something wrong should be correct and improved.