Solar Car Battery Charger - 2020 New Arrival
Views:33 Author:Site Editor Publish Time: 2020-06-22 Origin:Site
This is so terrible when a car or other vehicle breaks down, but it can happen anywhere, even during short commutes. The most common problem is that the battery is dead. The battery may become dead even you don't use your vehicle too much. Therefore, it is best to carry a portable charger for preparation. The best car battery charger will power the battery and start the car without any other connection. Even better, the best solar battery maintainers or chargers get their energy from solar energy and always work anyway. Before choosing a charger, you should consider the power requirements of the failed vehicle. In addition, it is crucial to choose a product that can be quickly started by solar energy to avoid stranding.
If you're looking for the easiest way to maintain your battery's charged, take a look at Sungold's solar car battery charger.
Sungold is an excellent solar product brand in China, specializing in manufacturing flexible solar panels, portable solar panels, and rigid solar panels.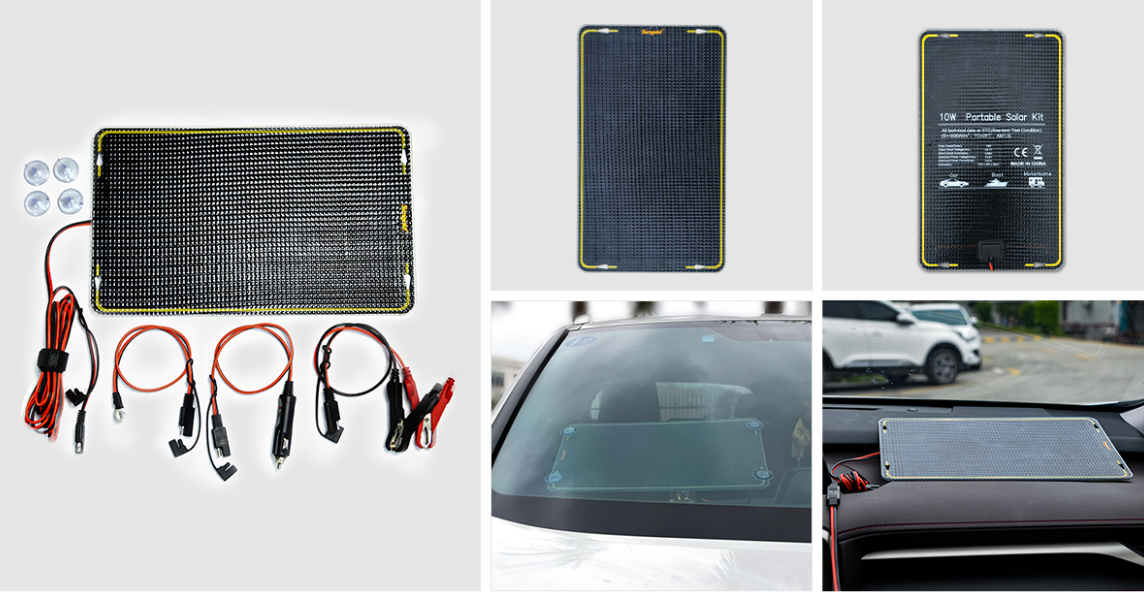 Sungold's solar car battery charger is one of the best options for any vehicle owner, and provide power to cars, trucks, RVs, motorcycles, tractor, boats, and more. It comes in 10-watt models. It comes with a set of accessories, which further increases its value. Bundled with it together are four suction cups, an alligator clip cable that can connect directly to the battery, as well as a cigarette lighter plug so that you charge the batteries from inside the car. The additional items undoubtedly expand the versatility of the panel. It measures just 14.56''X9.17''X0.11'', and weighs just 1.03 pounds.
Because it is so small, you can put it in the car. When you need to park the car for a long time, pull it out and suck it inside the windshield (including the suction cup) or place it on your dashboard.
The solar car battery maintainer uses premium monocrystalline solar cells and ETFE material on the surface. It is waterproof, plug-and-play, and includes all-weather support and compatibility with all vehicle types, such as cars, RVs, motorcycles, and boats, etc. It works with any battery type, including Wet, Gel, AGM, SLA, and Deep-Cycle. What's more, the built-in safety diode helps to prevent common voltage and charging problems.
It is designed with an indicator light in the junction box. When the solar panel is facing the sunlight, it will light up and shows that the solar panel is charging the battery. It is a solar battery maintainer that keeps your battery charged to lengthen its life expectancy.
The product is very easy to use and install, even for those who have no professional knowledge.