Sungold 2018 160W marine semi flexible solar panel introduce
Views:86 Author:Site Editor Publish Time: 2018-09-28 Origin:Site
Derived from the sun's radiation, solar energy is one of the most powerful sources of energy. It is said that the energy the sun provides in an hour is enough to meet the energy needs of the earth for a year. And yet we have only harnessed 0.01% of this energy. Solar power has proved to be extremely beneficial both environmentally and financially and an efficient source of clean and renewable energy.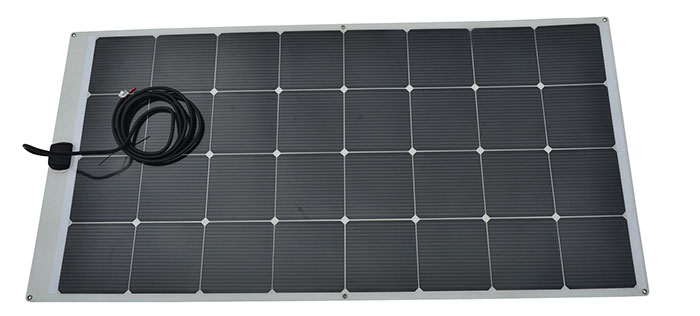 Solar energy is available and free for anyone to use. With the installation of solar panels in your homes you have an independent energy source that is all yours. This not only benefits individuals but the country as well. Ukraine saved up to $3billion in oil and gas imports from Russia all thanks to solar power.
Shenzhen Sungold Solar Co., Ltd is a leading solar panel manufacturer that has been manufacturing solar panels since 2008. They excel in mono/poly crystalline solar panels. Their solar panels meet the CE/RoHS standards giving their solar panels a high efficiency. The company's expertise has allowed it to design customized solar panels for companies in Europe and North America.
Some of their products include Monocrystalline, Polycrystalline, Semi Flexible, Lightweight, Portable, Aluminum Plate, Double Glass Solar Panels, Portable Solar chargers, Solar Charger Controllers and Solar Portable Power Supply.
Sungold solar panel manufacturers present Lucis A TPT Marine 160W. A mono semi-flexible solar panel. Flexible solar panels have the ability to fit any surface they are installed on. They are less expensive as they are portable, easy to install and easy to handle reducing installation costs.
This lightweight solar panel is thin, weighs 3 kgs and is 1360 * 670 * 3 mm. The solar panel has a service life of up to 10 years and comes with a one year warranty. The semi flexible solar panel can bend up to 30 degrees. The panel has a conversion rate of up to 17.6%. The multi wire electrode technology used in this solar panel enables the front and rear ends of the link to act as a heat sink during the summer. It has a back sheet of aluminum or fiber glass making it very durable. The solar panel is designed to minimize losses during transmissions. The short distance between multi gate lines increases the current during transmission. The Sungold Lucis A TPT Marine 160W has maximum power of 160W and an efficiency of 20.4%.
The panel is easy to install, it comes with pre-drilled holes for fast mounting and makes it perfect for temporary installations. The panel can be affixed using adhesives like Velcro. You do not need costly structural roof reinforcements for installation. This solar panel has many versatile installation options including RVs, cabins, yachts, tents or any irregular surfaces.
The solar panel is fully weatherproof, it can withstand high pressure winds, snow loads and extreme temperature and comes with a positive coating of TPT. It is highly reliable and comes with a +/- 3% output tolerance guarantee. It's high and stable conversion efficiency ensures the highest quality.