Sungold Solar Charger Enables Outdoor Life
Views:21 Author:Site Editor Publish Time: 2020-05-29 Origin:Site

In the 21st century, with the rapid development of technology, people live in more and more convenient life, but at the same time, they have lost a lot. Many people are eager to get back to nature and experience outdoor recreation. They like hiking on sunny days or relaxing on the beach. Regular outdoor activities can exercise the body, cultivate temperament, and enrich life.
When you plan on spending the weekend camping or you attend a lot of outdoor sporting events, you need something to keep your devices charged. To meet the needs of outdoor electricity, the Sungold solar designed a type of solar panels for portable charging, which have obtained the appearance patent. The product has two or four panels, and each panel has the same power. They are able to fold when not in use, and unfold to get more space to absorb the sunlight when in use.
1.Structure and Function
The solar charger is foldable, overall in black, with an orange rubber handle, two 5V USB ports, and one 12V DC port. With this solar charger, you'll be able to directly charge two devices at once, such as smartphones and tablets, perfect for outdoor life and even unexpected power outages. The DC output is compatible with most power station generator, and it can charge the 12V battery for cars, boats, RVs, etc.
The kits come with a charge controlling box, which is able to protect your devices from over-charging and overloading. The handle has a magnetic system built-in, which enables it to keep close instead of other locks. It is very easy to use and take with you wherever you go. The built-in smart IC chip can intelligently identify your devices, and maximize its charging speed while protects your devices.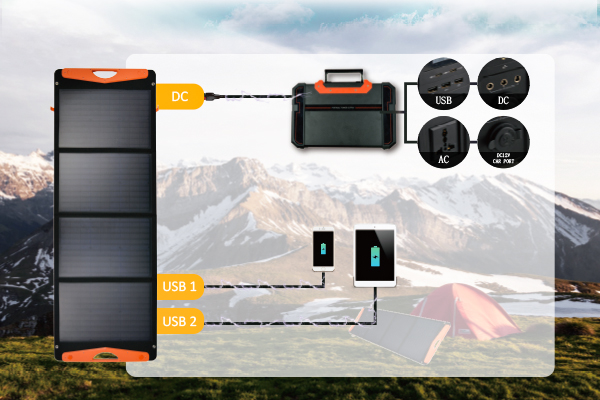 2.Material
The solar charger uses premium monocrystalline or SunPower solar cells, enabling it to get great conversion efficiency. It performs better than similarly rated polycrystalline solar panels at low-light conditions. It adopts carbon fiber material on the surface, making it look nice, waterproof, corrosion-resistant, high and low-temperature resistant, and environmentally friendly, easily copes with various harsh outdoor environments.
3.Application
Solar panels are water-resistant to endure a variety of weather conditions, so you don't have to worry about it being damaged from the wind or rain. They are lightweight and portable, which makes them ideal for camping, mountaineering, hiking, climbing, picnics, and other outdoor activities.
4.Suggestion
The solar charger has holders. You can open the holders or not depending on the sunlight angle. In terms of the solar charger including two panels, to keep it powered, you can hang it on the outside of your backpack or any area that sunlight can be lit so that it can receive sunlight while you go hiking. If you want to go camping, you can find a place where it can be exposed to direct sunlight, and then put the charger outside. If you are traveling by car or sitting at home, you can place the solar charger on the window facing the sun.
Solar chargers can also work well when traveling by plane, train, or bus. Sockets are not readily available on these modes of transportation, which makes the solar chargers a great solution to keeping your smartphones and tablets charged until you reach your intended destination.