The Folding & Lightweight Solar Panel for Camping
Views:20 Author:Site Editor Publish Time: 2020-06-02 Origin:Site
As a growing number of people love outdoor life, RV camping is becoming increasing popular. However, recreational vehicles can consume lots of power, and one of the big challenges is the lack of power source to charge batteries and run electrical appliances. A portable solar panel can be a perfect option to address the problem.

Solar panels are able to offer a clean, quiet, and renewable source of energy wherever your RV is parked. Thanks to its portability, you can move the portable solar panel around to get the best sunlight. Even if the RV is parked in the shade, you still can make the portable solar panel expose to the sunlight with the help of extension cables.
After purchase, the portable solar panels will cost nothing to use. Panel mounting brackets and accessory ensures you don't have to buy anything extra to install it. These are no installation fee, which is better than other choices. You don't have to buy expensive fuel for the generator or pay for the battery to use electricity.
Our LVP-series of portable solar panels are foldable and lightweight, ranging from 80W to 200W. They can provide enough energy for RV, and are very suitable for outdoor camping. Travel lovers will love it very much!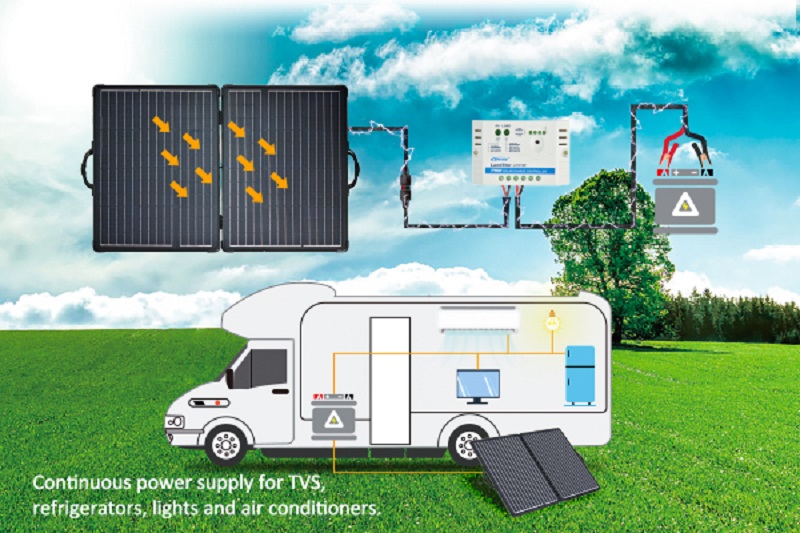 Appearance
The portable solar panel looks like a suitcase. The unique design makes it much easier to store or transport. You can take it to any place where you go. When unfolding, you will see two same solar panels, which can increase the space to absorb the sunlight.
Material
The solar panel uses monocrystalline solar cells, and its conversion efficiency is up to 20.6%. ETFE material is adopted on the surface, making the solar panel corrosion-resistant and weather- resistant.
Structure
Each panel has designed four-round angles, which can protect the kids from hurt. Handles can keep close when no in use due to a built-in intelligent magnet system. There is a charger controller to help prevent electric shock events and hazards during use, such as overcharges or short circuits. Besides, the aluminum stand is available to adjust according to the light angle for better light absorption.
Other Features
-50% lighter than traditional solar panels
-Easy to set up & use