Solar Panels for Outdoor Applications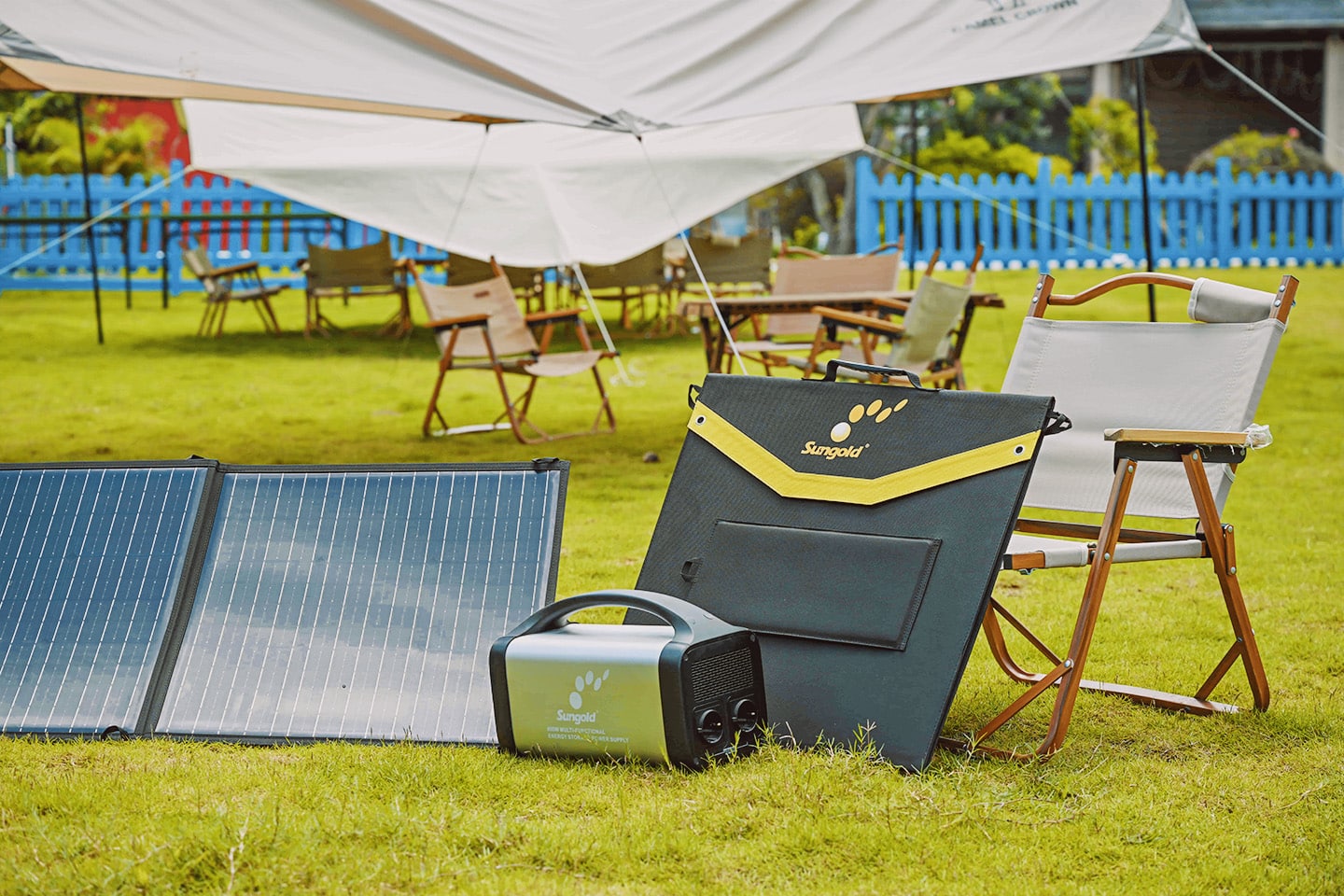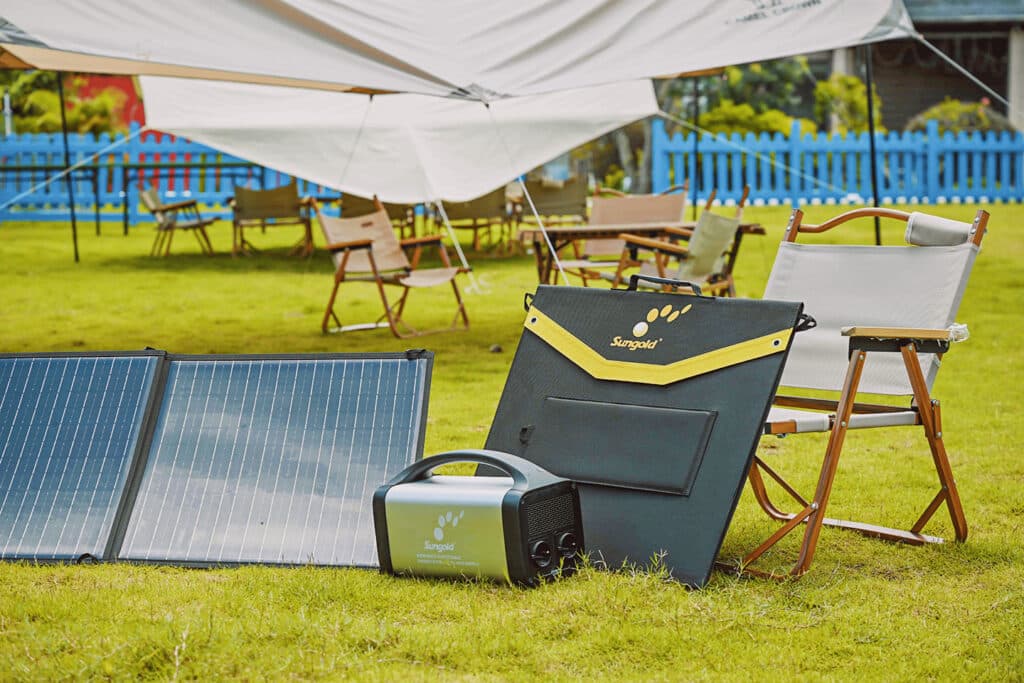 Outdoor Camping –
Power Basic Loads
When doing outdoor activities, such as camping, hiking, fishing etc., electricity is taken into account. With electricity, you will be able to charge your mobile phone, computer, camera, GPS unit, camping light and other devices.
Sungold has specially matched different solar panels and portable power stations for outdoor activities to provide you with powerful and stable electricity for your outdoor life.
Hang the solar panels on your backpack. You can charge your mobile phone, and GPS unit.
From your phone to your camera to your lights, you'll have enough electricity to keep your appliances running.
The solar panels can power your mobile phone, portable fridge, pellet grill. Make your party more comfortable and enjoyable.
Keep the lights on and the fridge running to turn your caravan camping life into a really cosy cabin.
How to
Choose Solar Panels
Firstly, you need to be clear about which camping equipment you are taking with you that needs to be charged. Then work out how much power they consume. Multiplying the rated power by the time of use is the power consumption of the load.
You can calculate the power consumption of the appliances you need by referring to the table below.Then choose the right portable solar panel according to the power consumption.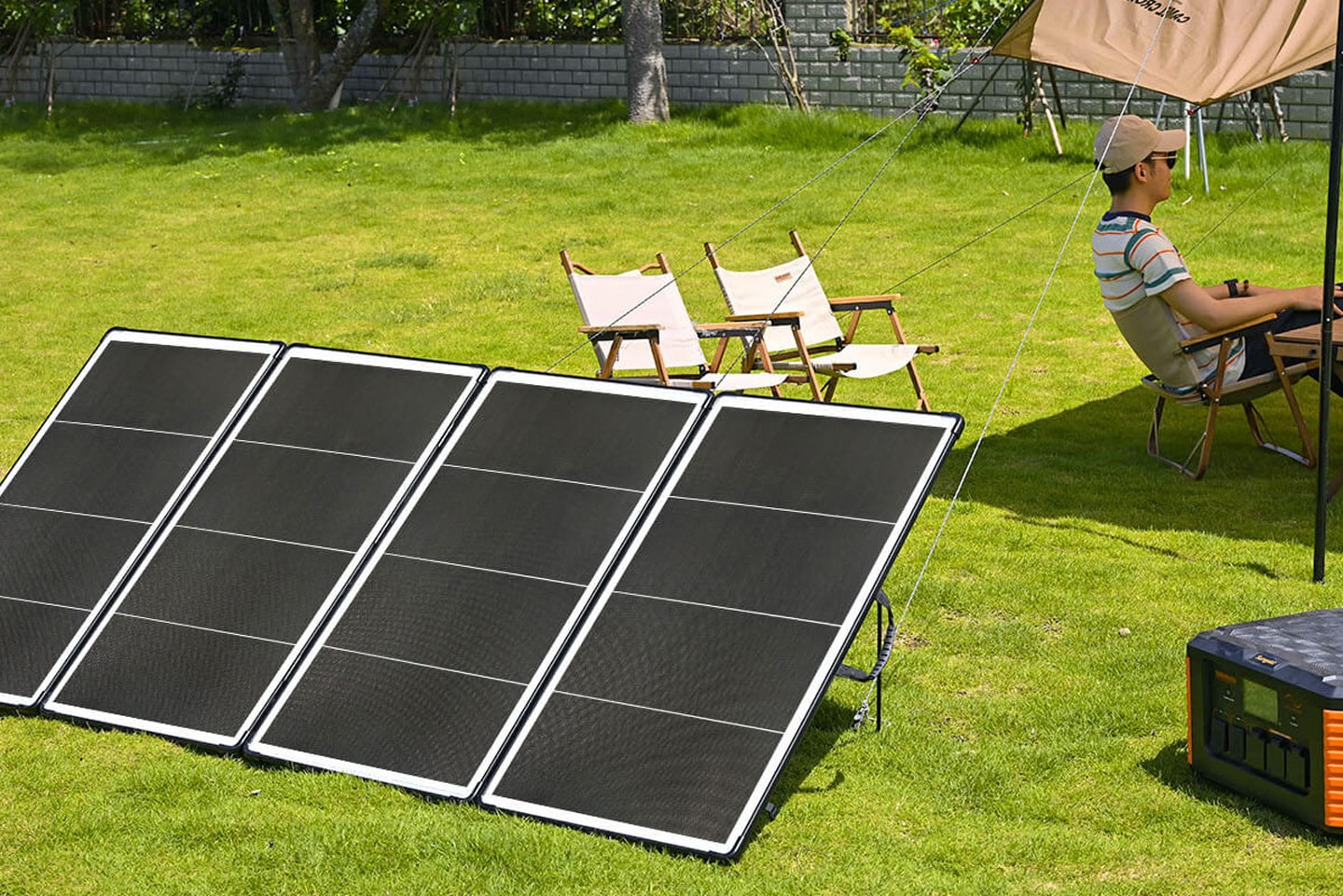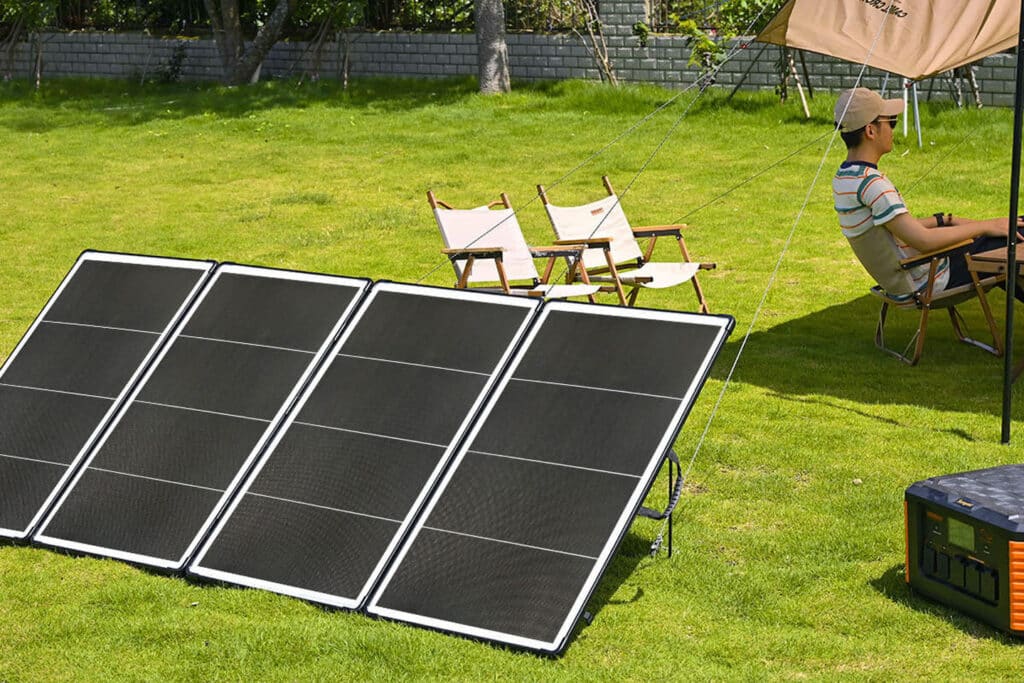 Recommended
HP-D-400W
Products for You
The Hi-Power series is designed for portable power stations and is perfectly adapted for long camping trips. This solar panel is compatible with a 2000W portable power station.
If you want to power more loads, then this high-powered solar panel is more suitable for you.
Apart from the fact that you can choose a matching solution depending on the appliances you need to charge. Also consider factors such as travel, length of camping, number of people camping, etc.
Installation and
Connection
The whole installation process is very simple. You just need to unfold the solar panels and adjust the brackets.
A Y-shaped cable is provided for you with an MC4 connector on one end and an Anderson connector on the other. The cables and connectors are plug-and-play. Simply match the shape of the plug to the shape of the connector. Then the solar panels are then connected to the portable power station.
This high power solar panel can charge multiple loads such as respirators, mobile phones, computers, projectors and more. It can provide electricity for your entertainment as well as for emergency situations.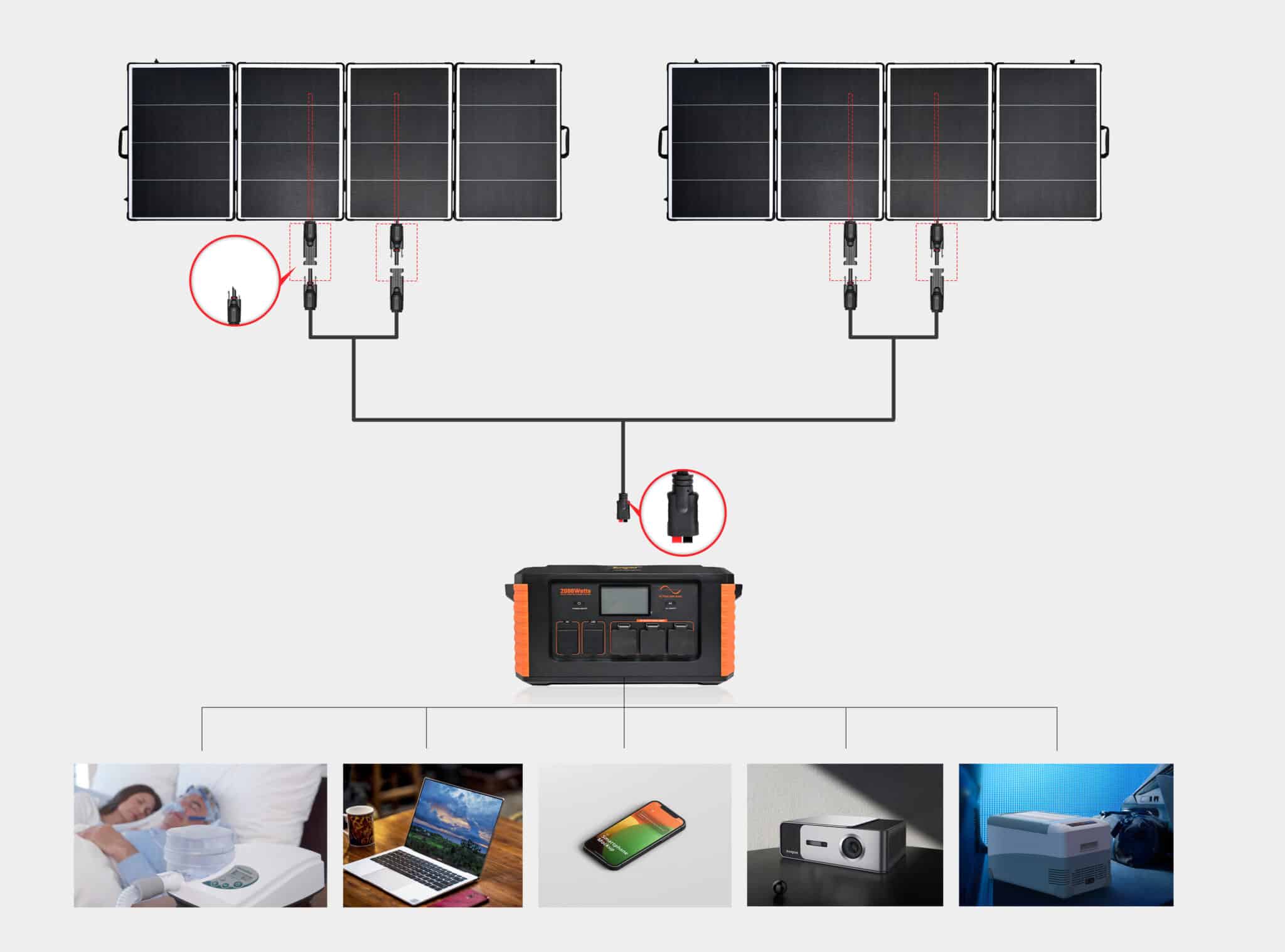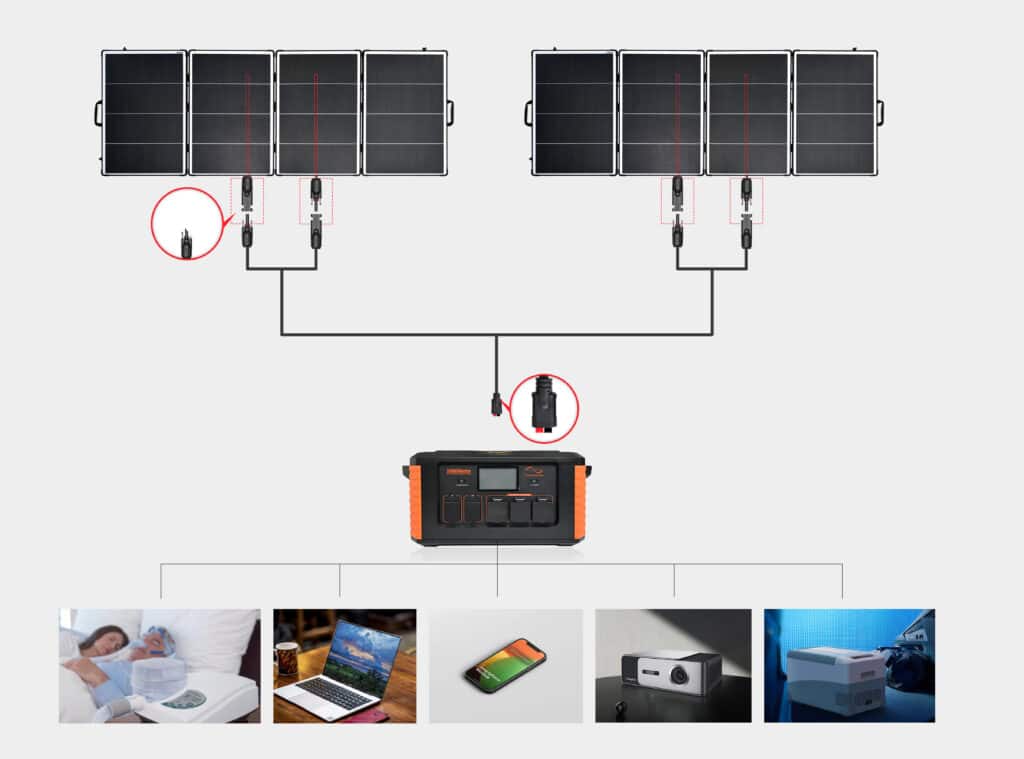 Get out in the sun, touch the sun, feel the potential of the sun
Please feel free to consult us for installation precautions and local policy information